Root 225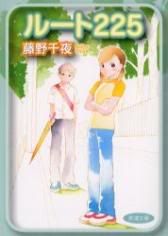 Genre: Mystery Shounen
Author: Fujino Chiya / Artist: Shimura Takato
Number of Volumes: 1 Volume (Complete)
Year: 2007
Language: Japanese
Associated Names:
- ルート225
-Route 225
Description:
The story, also adapted into a live-action film, is told from the point of view of 14-year-old Eriko, who is left in charge of her younger brother Daigo, when her parents dissapear. Contrary to most manga, in Route 225, the dissapearing parents are a major part of the plot. Mum and Dad have somehow been transported to an alternate world, from which they are still somehow able to dial back cryptic messages to Earth mobile phones.
The result is a great angle on so many teen manga!
Project Status: Dropped.
It was picked up by /a/nonymous, so we are dropping this project.