Banana Bread Pudding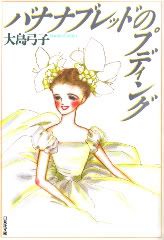 Genre: Drama Psychological Shoujo School-Life Slife-of-Life
Author: Ooshima Yumiko
Number of Volumes: 1 Volume (Complete)
Year: 1977
Language: Japanese
Associated Names:
バナナブレッドのプディング
Banana Bread Pudding
Banana Bureddo no Pudingu
Description:
Now that Ira's older sister is getting married, who will take her to the bathroom after ten p.m. and sing "Twinkle, Twinkle Little Star" outside the bathroom door in order to protect her from the beautiful, androgynous, child-eating clown? Will marrying a closeted gay man help?
Additional Notes:
There are 3 oneshots in the Bunko, unrelated to Banana Bread Pudding.
-ヒー・ヒズ・ヒ ム (He, His, Him)
-草冠の姫 (Grass Crown Princess)
-パスカルの群れ (Pascal's Flock)
Released:
Chapter 1:
Mediafire
Chapter 2:
Mediafire
Chapter 3:
Mediafire
Chapter 4:
Mediafire
Chapter 5: [End]
Mediafire
Complete Volume:
Mediafire
Project Status: Complete
Chapter 1: Released.
Chapter 2: Released.
Chapter 3: Released.
Chapter 4: Relesaed.
Chapter 5: Released.