Kawa Yori mo Nagaku Yuruyaka ni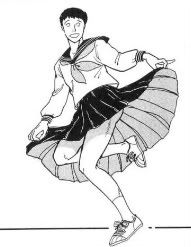 Genre: Comedy Mature School Life (has some guy gender bending with slight hints of shounen-ai)
Volumes: 2 Volumes (Complete), 1 bunko Volume. Author: Yoshida Akimi
Language: Japanese
Year: First released in 1983, and in a bunko version in 1994.
Associated Names:
-河よりも長くゆるやかに
-Longer and Slower than a River
Description:
Toshi is your regular senior high student, except in the evenings when he's a bartender at a joint frequented by American servicemen, where he deals drugs, pimps, and even cross-dresses a little on the side. And his best friend Miyuki just happens to be the son of a loan shark with gay tendencies. If this sounds like the hardboiled world of Yoshida's later and most well-known work Banana Fish, it's balanced by Toshi's madcap adventures at his all-male school (where his mates jerk off to everything in sight, and scenes from shoujo manga are performed in all their histrionic glory), as well as the unexpected delicacy of his relationships with the women in his life. This episodic drama is bursting with all the frustration, the tenderness, the audacity, the horniness and the hilarity that comes with being young and male. All the tough, silly, dirty, and sweet things boys get up to in the locker room and out of it never brought a bigger smile to your face.
Released:
Chapters 1-11
part 1 (Mediafire)
part 2 (Mediafire)
.
.
Project Status: Finished.
Chapter 1- Released.
Chapter 2- Released.
Chapter 3- Released.
Chapter 4- Released.
Chapter 5- Released.
Chapter 6- Released.
Chapter 7- Released.
Chapter 8- Released.
Chapter 9- Released.
Chapter 10- Released.
Chapter 11- Released.